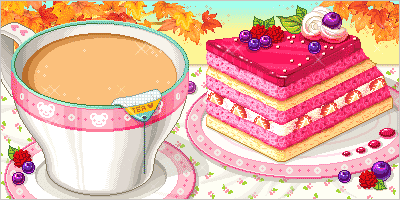 Table For Two!


The quiet din of the restaurant around you fades into nothingness, and outside the window, you see an endless sky of swirling clouds. You survey the snack shelf and grab yourself a plate of petit fours, along with a steaming mug of cocoa. You breathe in the steam slowly... it smells just like home!

Welcome to a land of coding, art, video games, and of course, snacks galore! We're very honored to have you over here at DJ's Internet Cafe: The Site That's Homemade, Just Like Your Momma's.


Mission Statement


Before you get to browsing the cafe, I wanted to give a disclaimer: not all of the art is mine. Some backgrounds and assets are from various pixel sites, all of which I've listed in Special Thanks. The sprite art on the sidebar is also not mine. I've credited them in Special Thanks as well. Please go give their work some love!
This site supports queer liberation, racial equality, disabled rights, and is firmly anti-police. DJ's Internet Cafe is a NO-COPS ZONE!


Site News


9/2/2022: DJ's Internet Cafe has been added to the Sweetdreams Webring!
9/3/2022: Added clutter to the the homepage :D